It is my second time to watch this movie of THE RON CLARK STORY. When the first time is when I'm not the educator profession, but the feeling of watching the movie are same, the first time I watched it, I was deeply touched. I have watched it for the second in the class, and each time I watched I have more of an appreciation for what Ron Clark has done for these children. In which I am feel excited and inspiring me and that person was a real not only for the drama.
The RON CLARK story follows the inspiring tale of an energetic, creative and idealistic young teacher who leaves his small North Carolina hometown to teach in a New York City public school. Through his passionate use of special rules for his classroom, highly innovative teaching techniques and an undying devotion to his students and helping them cope with their problems; Clark is able to make a remarkable difference in the lives of his students. For one young girl trying to attend school while helping to raise her brothers and sisters, he offers a chance for her to overcome her situation and become one of the class' top students. For a young man with a penchant for graffiti, he offers an ideal outlet for artistic expression. Even when he is almost overcome by pneumonia, Clark continues to work with his students, hoping that he can raise their test scores to an acceptable level, or possibly even higher.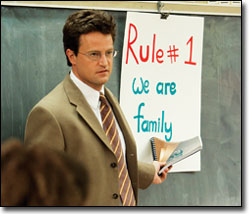 The drama comes from these kids who have all but given up on themselves. Watching the kids triumph is moving. I was amazed that one person had so much faith and truly believed in these children when no one else did. I wish that every teacher out there had the passion and love for their students that Ron Clark has for his. Every child needs to feel important and loved. I am grateful for the example and for all that you have done for your children that Clark have taught. What Clark do is remarkable and Clark have inspired me to teach children with passion and love. And some of people out there who watch this movie were become inspire and set him to be a role model! I thought, and I still think that I will aim for that. I'm even inspired just by reading about Clark inspiration... teachers are in such a powerful position for change. As the quote stated
'The great thing about getting older is that you don't lose all the other ages you've been.'
~Madeline L'Engle
I love this movie so much because it made me strive even more to achieve my dream of teaching. Watching these movies makes me so proud that there are teachers like Clark that don't give up on their students, like some teachers i have known, Clark believe and know they can achieve greatness. It is teachers like Clark that give students a chance to live to their full potential. Clark are truly a educator , and his determination and achievements well always be kept close to my heart. As the inspire word I get from this movie..
'We learn to love to learn' ~Ron Clark and I would look as a part of an education is the lifelong learning and nothing will last forever.